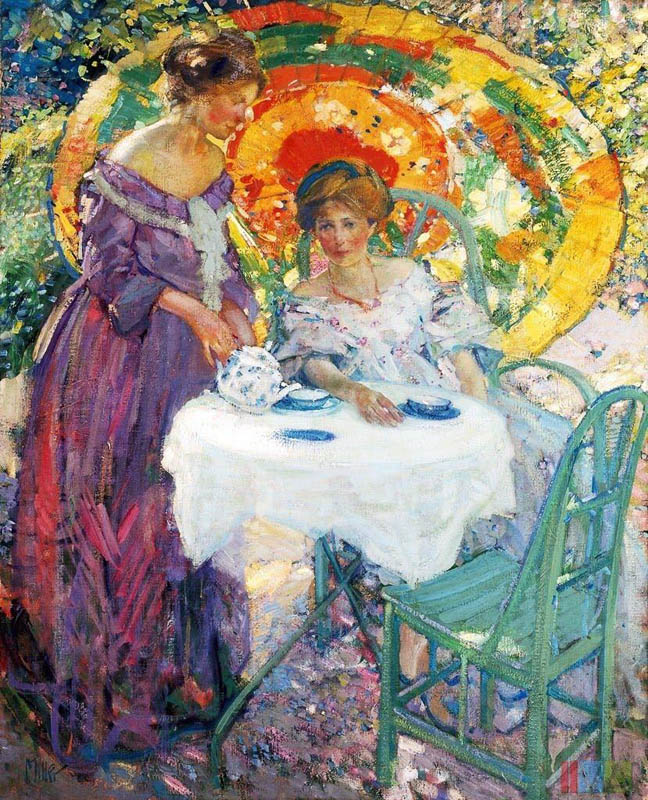 Summer Tea by Richard Miller
What a pleasure it was to read at the Word and Song Café in West Huntington, WV.
The tea cost $3 a person with all proceeds going to a local food bank.
This amazing event began Friday and ended Sunday. 
I attended the Sunday tea-session. I had a lot of fun, got to read from Terrible Toes, and enjoyed hearing the harmonica club play music, sing, and generally keep the festivity going.
There was a charitable tea held beneath a huge gazebo.
Pretty round tables were set up covered by pink tablecloths with lace-covered trays, napkins, and very pretty china teacups and saucers.  Very English.  And I should know.  The hostess was Betty Schoew of Manchester House and Tea Catering (bringing you an elegant tea experience). www.mhtea.vpweb.com  mh.tea@hotmail.com
Betty does catering so consider her for your next event. The tea party  was incredible.  Rich hot tea–Lady Londonderry– in traditional teapots and apricot/peach iced tea was served by volunteers, including me and other writers. The sweets included delicious scones and lots of other exquisite cookies–all home-baked.  
All around the gazebo were flowers. I couldn't resist and bought a hanging basket loaded with different colored flowers for my new house.  They look gorgeous.  The horticulturist was Donna Rumbaugh: Perennial Favorites, LLC. You can reach her at plantnerds@gmail.com Her website is www.plantnerds.com
The harmonica club meet every Tuesday 7pm-9pm at GINO'S PUB at 25th street and 5th AVE., in Huntington. Their website is http://hhcwv.com/index.html   If you can't go to their meetings, you can even PLAY ALONG with them on-line.  They were a lot of fun and very talented folks.
A big thanks to Laura Bentley, poet and writer, who invited me. I felt honored to participate.